My husband was born and raised in California. He lived there until he was 15. His parents lived in California until their late 30s. While so many people think the weather in California would be ideal, my mother and father in law swear they would never go back because they would miss the seasons. My mother-in-law always said how she looked forward to the leaves changing, she collected jackets and coats (and I mean COLLECTED! as in she had TONS of jackets and coats!) My father-in-law has been back to California several times since my mother-in-law passed away, his sisters keep trying to get him to move back, but he won't because he says that he would really miss the seasons so much.
This picture was taken in the town where I went to college.
I grew up on the East Coast and lived in New England for 6 autumns...and I have to say, I may never have thought about it if my in-laws didn't talk about it so much, but I really love the seasons. It provides a much needed change, a respite.
Every November, I start to look forward to winter, to being snug and cozy in the house, curled up with a good book and some hot chocolate as the snow falls. And then every March I start to get tired of that and look forward to the warmer temperatures of spring, flowers blooming and then in May I anticipate sitting on our deck, grilling steaks and drinking gin and tonics. By September I am ready to hunker down inside again...
Overnight this last week, the weather went from "shorts and a t-shirt" to "you need a jacket"! Right now, I am embracing the crisp air, the spicy fragrance of the drying leaves, the sound of them crackling and crunching under foot, the sight of the mountains just outside my window flaming with oranges and yellows and reds...it is just so gorgeous. I feel so fortunate to live here! I can't wait to make stews and soups and butternut squash ravioli and pasta with brown butter sage sauce, pumpkin seeds and cranberries. I can't wait for Jason to get back into his Sunday ritual of baking bread.
I really think my in-law's appreciation of the season has taught me to appreciate the seasons. I decorate my house for each season, adding splashes of orange and brown and gold in fall...splashes of brighter blues and lilacs in spring...I buy candles with seasonal scents (my current favorite is Apple Cider by Yankee Candle; but all summer we enjoyed Yankee Candle's Farmer's Market)...I buy potpourri for each season, spicy scents in fall, holiday scents around Christmas, floral scents for spring...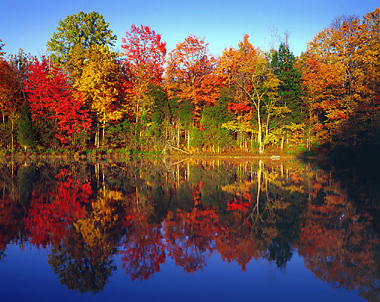 I enjoy decorating for the holidays...so I've decided to change the background and themes of my blog for each season...I hope that doesn't confuse anyone who may be used to the simple white background...
I hope you all take some time to enjoy the fall!
Go Apple Picking
Bake an Apple Pie
Drink Some Mulled Apple Cider
Rake Some Leaves & Play in the Pile
Hang out in a Corn Maze
Pumpkin Patch
Bake Some Pumpkin Bread!