Jason takes off the week between Christmas and New Year's.
It makes the holiday more relaxed,
more fun, more enjoyable.
We had an awesome, amazing, wonderful, fabulous,
spectacular, stupendous, joyful
week.
And now we all miss him terribly.
We feel like a part of us is missing.
We have only to wait until dinner time for Jason to walk in the door...
I truly don't know how my friends with spouses or family members in the military do it.
You are in my heart and prayers.
I purposefully took a little break from blogging last week
to enjoy time with my family :)
Now I am so far behind...I have a good three or four posts in mind!
First of all,
we had a fabulous, relaxing, fun week...
We hung out with friends.
Her older daughter has a wonderful enthusiasm and zest for life that we all enjoyed!
And her younger daughter was sweet and fun and charming!
And of course, Jessica and her husband are warm and easy to be with, we find that we all have so much in common and look forward to hanging out again!
What a blessing a blog is when it brings great friends into your life!
We spent a day in the city.
We used to do this all the time.
Then we started driving in.
(I have no idea why--maybe because of the strollers when the girls were little?)
But the train was super quick and super easy.
Price wise, it was about the same or maybe slightly more pricey than driving in, depending on where in the city we are headed.
But this time we stayed around midtown, so basically it was about the same price as driving in.
And we got there way faster !!
We went to see King Tut
(they don't allow cameras, so I have no photos of that).
It was fascinating.
We each had a favorite part.
Jason's favorite part was the chariot.
A's favorite part was the special glass scabard on a pectoral that Tutankhamen wore.
P's favorite part was all of the jewelry and chairs.
My favorite part was the replica of his mummy &
the cool light effect of the layers of his tomb!
No one does Christmas like New York City.


It was frigidly cold here (in the teens!)
before Christmas, so we had waited until after to go...
and there is really nothing like it, to me.
It sends my holiday spirit soaring...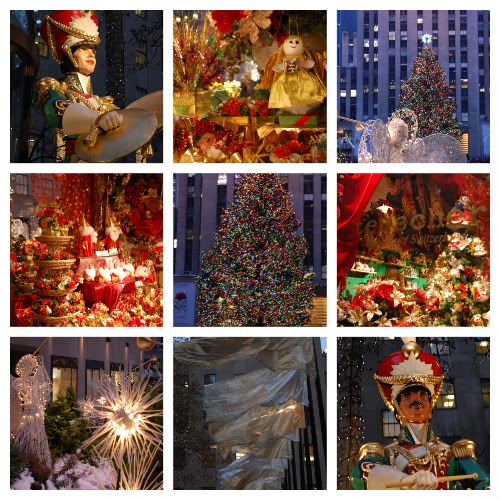 the tree in Rock Center
Radio City
the windows at Saks
and Bloomingdale's
and Macy's
We caught some great deals at Macy*s Herald Square
and the girls got to see all of their favorite stores
decorated for the holidays:)
We ate dinner at Frankie & Johnnie's
a historic landmark
former speakeasy
John Barrymore's townhouse
We were in the city the day before New Year's Eve,
it was pretty darn cool to see them setting up
for the ball to drop...
see all the people already lining up to see the ball drop in Times Square
In addition to all of that,
we had friends over for New Year's
and their girls slept over :)
and we made them all fantastic Belgian waffles with REAL whipped cream for New Year's Day breakfast!
We also spent a lot of quality family time
playing Wii
making fabulous food
(looooooove my husband's cooking!)
Baking bread in a Dutch oven
(again with my husband's fab cooking!)
We also spent hours rocking out to Rockband 3...
playing Wii Party...
reading...
we spent days in our pajamas...
We had a surprise visit from A's bff!
(I got her mom's permission to post a photo!)
B used to live right around the corner from us.
She and A were in the same class for
kindergarten,
first grade,
second grade,
third grade...
The girls were inseparable.
B was always at our house.
Or A was at her house.
They learned to ride bikes together.
Weekends meant sleepovers.
Summer meant swimming in B's grandparents' pool.
They became independent enough to walk to school together.
THEN...
B's mom took a job 8 hours away...
and they moved at the end of third grade.
But B's grandparents still live around the corner
(we can see their house from our house!)
SO~B still visits for holidays :)
We also had a blizzard...
and spent LOTS of fun time in the SNOW!!!!