Today I am posting at Three Thinking Mothers about setting priorities in your homeschool. Are rigorous academics your priority? Is honoring your child's individuality your priority? Please hop over and link up!
Also, I FINALLY got the time to post about our first week! And it what a great, awesome, fantastic, amazing and wonderful week it was!
In my life this week…
I have been walking or doing yoga every day. It feels great! I promised myself that I would keep it up when we started back to our lessons and so far I have!
In our homeschool this week…
This was our first week back after a month off! We began our new language arts curriculums, read Chapter 1 in Story of the World and completed the first chapter in Biology where we furthered our understanding of Taxonomy. P also began Math U See and said, "I never knew math could be fun!"
Helpful homeschooling tips or advice to share…
Being prepared is wonderful. I had copied all of the maps and some of the coloring pages for Story of the World and it really made a big difference to just be able to do that without running for the photocopier!
Places we're going and people we're seeing…
We had a blast celebrating NOT Back to School with our homeschool friends at the Sprayground. This was my favorite thing this week. We had fun meeting old friends and some new homeschool friends. Our kids were the only "big" kids there and for a while, we were the only kids there!
My favorite thing this week was…
Real Science 4 Kids Biology! I LOVE the Laboratory Workbook and how it encourages critical thinking of the information learned and teaches the Scientific Method.
Things I'm working on…
My mantra for this year is to live intentionally and in the moment. These are things I struggle with. But I am trying...
Favorite Resources this week… We learned about the Roman Coliseum and gladiators in history. We enjoyed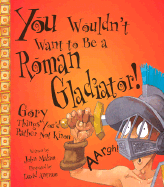 I had also picked up Beowulf: Monster Slayer by Paul Storrie and Beowulf: A Hero's Tale Retold by James Rumford in preparation for next week. Both of which A read the evening I picked them up!
These supplemental reading options are my favorite resource this week. They make what we learn about in history come alive. The "You Wouldn't Want to Be a..." series is a favorite of both our current and past children's librarians...they are the kind of books that kids can "skim" and not realize that they read the whole book. They are written so uniquely with facts and clever illustrations that you plan to just browse it, but can't put it down. If there is a "You Wouldn't Want to Be a..." book for what we are learning, I usually grab it and leave it on the coffee table and catch my girls reading it!

We are reading....A has confessed that if she had a mini-fridge and a bathroom in her bedroom, she would never leave and just read. This week she read three Nancy Drew novels and Fairy School Dropout. She is now working on Wednesday Wars by Gary Schmidt.
P is reading Liberty Porter: First Daughter by Julia DeVillers.
And I am reading So, You're Thinking About Homeschooling by Lisa Whelchel. I had wanted to read this book for a while since as a child of the 80s, I loved "Facts of Life"!
I'm cooking…
Fresh figs are in season...I have been eating them with goat cheese :)
We also picked up a blueberry crumb pie at Delicious Orchards this week!
I'm grateful for…
my husband, how hard he works for our family and for the opportunity that he had to give back to our country and those that lost their loved ones or their lives in 9/11. It was beautiful to see the trees as a symbol of life yesterday.
A photo, video, link, or quote to share…