I really enjoy writing my Thankful Thursday post each week.
It really does put my life into perspective.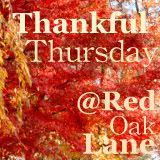 1. I am thankful to Susan at
Learning ALL the Time
for mentioning that she and her family are watching The Waltons on DVD.
and
I am thankful that our library consortium has all of the Waltons DVDs.
and
I am thankful that my girls LOVE The Waltons as much as I do.
and
I am thankful for the hard-working, family values and ethics that shows like The Waltons impart.
2. I am thankful that my husband was contacted about a job opportunity.
It has been a heavy week around here, lots of conversations.
The benefits of this job (tuition reimbursement for children, pension, annuity) seem like an answer to prayer,
but that needs to be weighed against the opportunities he has been given at his current company and the project that he is currently on, etc.
3. I feel so BLESSED that we are wrangling with the above decision, it could be so much worse.
We could, however, use your prayers to help us make the best decision.

4. I am thankful that we are all healthy.
5. I am thankful that despite the conversations about this job Jason was contacted about, I have been surprisingly content and at peace this week.
NO ANXIETY.
6. I am thankful that I have found time for yoga every morning this week.
(That could possibly be the reason I am content and at peace and not anxious. ahem.)
7. I am thankful for the
Pioneer Woman
and
Tasty Kitchen
giving me a renewed interest in cooking.
8. I am thankful that Susan from
Learning ALL the Time
and I have been cooking up some ideas to re-activate Three Thinking Mothers. I am thankful that we are both in agreement that we want our families to be the top priority and that we want this to be fun and useful for us and our readers, without taking a lot of time away from our other obligations.
9. I am thankful for adjectives, good books, chocolate, tea, apple computers, fleece pajamas, TikaTok, my husband playing guitar, finding new blogs to read, and special plans this weekend.
and last but not at all least...
10. I am thankful that 69 years ago, my grandparents had a little boy that would grow up to be my dad.
I wasn't always an easy kid,
but I love him dearly.
Happy Birthday, Daddy!
What are you Thankful for this week?
Please link up below :)