In November 2011, I began counting my blessings each week in a post. It changed my life.
This week, I am thankful that...
...a project Jason and I began back in the spring is complete!! And I LOVE it even more than I thought I would. Not to mention, working together on this was a lot of fun and brought us even closer together as a couple! Quality time!!
...that installing an antenna on our house worked! FREE TV!!! I don't really watch TV (with the exception of Parenthood on NBC at 10pm Tuesdays!) and Jason watches football; we don't like the girls to watch a lot of TV...so this spring, we tried an experiment and CANCELED cable. We honestly NEVER missed it--we got news & weather on-line and found more time to pursue the things we wanted to be pursuing, time for all those "someday" things, those things we put off...and we felt great about it. But, alas, football season is upon us once again...and Jason decided instead of cable, he was interested in trying an antenna--which gives us local NY & Philly stations (we wouldn't get Philly with cable--so he actually gets MORE games this way--oh the joy!). It took
some research
and
some trial and error
with antennas, but the guys at
Best Buy
were helpful and we now get all the local stations FREE!
...our new Tween Section at the library. After a year of hearing that times are lean and our budget was reduced and NOT spending money, we discovered we have a surplus to spend before the end of the year. I am SO THANKFUL that my boss was not only open to--but excited about--starting a Tween section for kids who find juvenile books too cartoony but aren't ready for some of the topics in YA...I see a real need for this and am excited to be working on this project--and hoping for Board approval!
...Allie's job! I am so thankful for so many things about this...first of all, Allie will be a Mother's Helper two afternoons a week and help my friend's second grade (public school) daughter do her homework, which will reinforce academic skills for Allie and also help her feel responsible. Secondly, my friend is an AWESOME role model - she has great style, has owned antiques stores and on-line businesses that have been written up in all kinds of magazines and now she works at home as an editor for a business journal in Manhattan. Seriously, I could see Allie following in her footsteps and I am so grateful for this relationship!
...that my whole family has been open to eating more grains and vegetables and less meat. I was a vegetarian for years before I got pregnant and then throughout pregnancy and nursing was concerned about adequate protein...then I got a little complacent and it was just easier to make one meal for everyone...but I always knew I would go back to a less meat centered diet. Without realizing it (honestly!) this summer I was drawn to meatless meals in magazines and cookbooks, over vacation when we ate out a lot, my family realized I never once ordered meat...and they told me they were cool with it, they were happy to eat less meat and loved the grain and veggie dishes. Last night Jason was at a special dinner for work and had meat and said he didn't enjoy it and felt sluggish afterward...hmmmm....
What are you thankful for?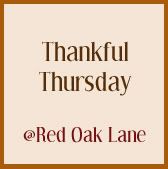 Grab a button & link up!
I am blessed each week by reading about how God is at work in not only my life, but the lives of others.