Louisa May Alcott's family home,
Orchard House,
which was paid for by Ralph Waldo Emerson
We finished our unit on fables and fairy tales. We've read dozens of each, along with folk tales and legends. The girls each wrote a fairy tale, a fable and a legend. And they wrote compare/contrast paragraphs on fairy tales and fables.
P chose to share her work on her blog.
Actually, instead of writing out her fable, she typed it on the computer.
We are now deeply immersed in life in Concord, Massachusetts in the mid 1800s.
That whole not planning thing is responsible.
I had wanted to read
Little Women
in December, but found that I could not get into the book. The girls insisted they enjoyed it, so we decided to get the audiobook. We've been listening to Jamie Lee Curtis read
Little Women
as we work on our puzzle, fold laundry and do other things.
Over the weekend, the girls came to work with me and decided to get Susan Beth Pfeffer's
"Portraits of Little Women"
series...they have been reading one an evening!
On Monday, A convinced me to buy her the first two books in Heather Vogel Frederick's
Mother-Daughter Book Club
series. The first book is about
Little Women
. She read it in less than two days. Crazy kid.
I ordered
Louisa May Alcott: the Woman Behind Little Women
from another library and we sat one afternoon and watched that.
Now the girls are begging to go to Concord, Massachusetts and we are considering a trip in the spring when there are apparently wedding dresses on display at Orchard House, the Alcott's home and the place where Louisa wrote Little Women. Jason is psyched because Walden Woods is nearby and Jason is a HUGE Thoreau fan.
This has lead to reading books about Nathaniel Hawthorne, Henry David Thoreau and Ralph Waldo Emerson. We've been getting into Emerson's poetry.
This has lead to questions on transcendentalism and the reformation movement and lots of research on my part, since I was only very loosely familiar with the concepts. I am extremely grateful to my co-worker who teaches at the high school level and emailed me several pages of information that I think the girls will be able to understand.
The girls now feel they are experts on Louisa May Alcott and Little Women, as well as Colonial Williamsburg and Ancient Egypt. It seems that the things we just delve into like this, they really get a lot out of...isn't that what education is about?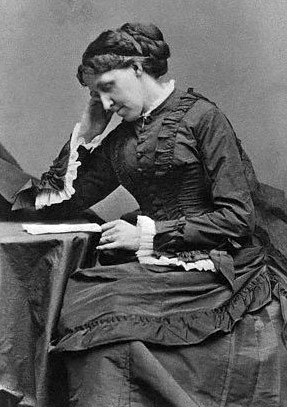 But we are learning...and we are immersing ourselves...and we are doing math. This is how this homeschooling thing is supposed to work, right? Rabbit holes and all that. I like the immersion part of this, I am learning so much.
Here are some interesting things we have learned about Louisa May Alcott:
in the 1830s education was supposed to

"break the will and subdue the spirit of the child"

Bronson Alcott had a school with a different approach
Ralph Waldo Emerson financed the family house & visited the school often
Nathaniel Hawthorne & Henry David Thoreau were great friends of the Alcotts
As a child,

Louisa had a crush on Thoreau

Louisa's family was all about the reformation movement
Louisa's father's school sank when he began to talk about conception and then admitted a black child as a student
The Alcott's engaged in a

Utopian Experiment

that left them destitute
they believed that crops grown below ground were not good for the soul and crops grown above ground had seen the light of God and were thus good for the soul
From 1848-1858 the family moved more than 30 times, living mostly in the worst slum in Boston
Her father, Bronson Alcott was a free thinker and an intellect and could not bring himself to work, just to think and discuss with pals Nat Hawthorne and Daniel Webster and Henry David Thoreau
Louisa wrote a story about a

biracial couple

that has never been printed (so forward thinking was she!)
Louisa declined marital proposals because she wanted to

"row [her] own canoe"

Louisa volunteered to be a nurse for the army and contracted typhoid and was given Calomel, which she believed was the cause of her later physical ailments (although the later ailments are more consistent with

lupus

)
When Alcott awoke after having typhoid fever, all of her hair was cut "her one great beauty"--which was the inspiration for Jo selling her hair in Little Women
Louisa's first published work was "Hospital Sketches" which showed the world what life in an army hospital ward was like
Alcott allowed herself to talk about unacceptable behavior in her writing
Alcott published many, many stories under

pseudonyms

, one such was

A.M. Barnard

--it is believed that the total of her work will never be known
popular literature brought more money than prose
She would write compulsively, non stop for days and then sink into depression for days - she is believed to have suffered from

bipolar manic disorder

The family was so destitute that her mother made her a "glory cloak" and told her to wrap herself up in it and the stories would come
Louisa wrote Little Women in Orchard House in Concord, you can still visit today and see the desk where she wrote it (which A & P are begging to do!)
Little Women is entirely based on Louisa's family; she is Jo, her sister Beth is Beth (her sister died the same death as Beth in the book); her sister May is Amy and her sister Anna is Meg.

Originally Jo did not marry in Little Women

Alcott's publishers pressured her to make Jo marry
Alcott felt pressure for Jo to marry Laurie
Such a little sprite was Alcott that she refused to have Jo marry Laurie, knowing it would be an upset and enjoying the upset it would be.
In their lives, Herman Melville made $10,000; Henry James made $25,000...but Louisa made $100,000!!!! She would be a

multi millionaire

by today's standards
Altogether Alcott wrote over 2 dozen books and countless short stories
Her sister May died in childbirth and Louisa raised May's daughter, becoming a mother at the age of 46
Louisa believed she was "born to fill vacant niches"
Louisa believed everyday life was worth writing about------would she have blogged? I think she would have loved the idea!
On his death bed, her father asked her to join him
She immediately contracted a terrible headache and then went unconscious (believed that she had a stroke, she was 56)
She died four days after her father
She lived from 1832 - march 6, 1888