We bought a museum membership.
Isn't that homeschool-ey of us?
LOL.
No, seriously we have had memberships to various museums and zoos and things in the past. I have learned that one of the biggest considerations in a museum membership is reciprocity. Many museums work together. So, you buy a membership at one place and are granted free admission at several other places; sometimes there are specific dates or blackout dates for the other museums. Some museums offer free parking with membership. Sometimes you can get a better rate buying a membership at a museum that has reciprocity with the museum you just know you will spend a lot of time at. There are a lot of things to consider when purchasing a museum membership.
We bought a membership at Newark Museum. I know a lot of people think of Newark, NJ as scary and there are parts of town where you don't stop for red lights, but there are a lot of areas of Newark that are nice, even affluent areas. The area where the museum is, my girls kept asking if we were in NYC. It looks just like New York, with well kept, huge, glass high rise office buildings intermingled with gorgeous detailed architecture from yesteryear. The only difference is that you can find on-street parking easier in Newark ;-)
We chose Newark Museum because we have unlimited reciprocity at Liberty Science Center and Franklin Institute (two of our favorite museums). We also get a reduced rate on art classes at the museum, which we have heard are phenomenal and well worth the drive. Additionally, there are several days per year when we can go to the USS Intrepid, the Bronx Zoo, members-only events and we get passes for the Newark Museum planetarium. Also, the Newark Museum offers award-winning photography classes that both the hubs and I plan to sign up for.
We went to scope out Newark Museum on Sunday. We had no idea what to expect. Other than the fact that there was an American Girl event taking place, which was sold out and P spent most of the day fighting back tears at not being able to go ~ we were pleasantly surprised.
One entire floor is dedicated to amazing photography. Jason and I walked through that area TWICE, just taking it all in...angles, composition, lighting.
The top floor is an awesome nature museum with one room dedicated to the flora and fauna of our state, a limited exhibition on bird migration in New Jersey and a TON of hands on, interactive displays. We LOVE hands-on interactive displays so much more than just looking at something and reading.
a) The girls have a little one on one time with a naturalist and learn more about the plant life in our state that is blooming
and causing my allergies
currently.
b) There were two rooms about the Earth, with an awesome interactive trip down to the Earth's core and back. A third room had cases of geodes and this wonderful three screen video of how the Earth has evolved.
c) In the room about flora and fauna in the great Garden State, there is this awesome projector that allows kids to aim at vegetation or animals and learn more on a little video screen. The girls had a lot of fun with it.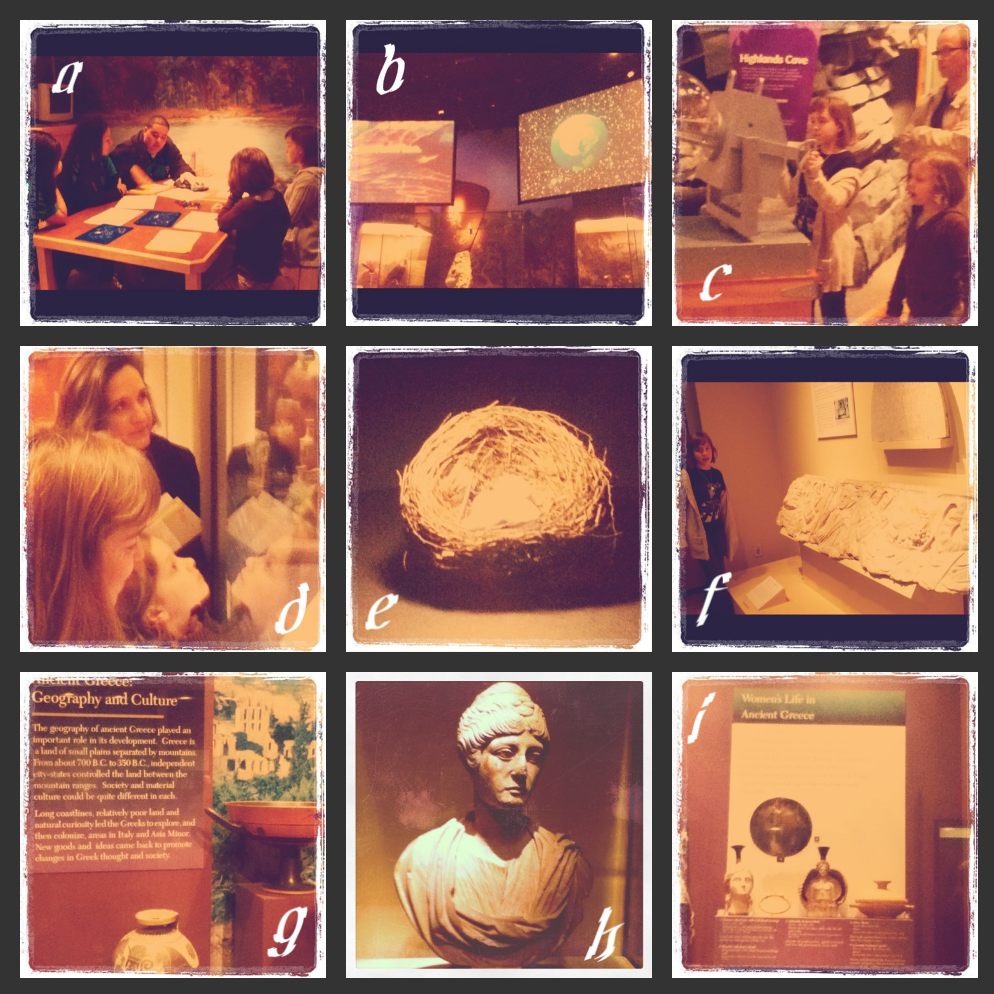 d. We were thrilled with the displays of Ancient Egyptian, Ancient Greek and Ancient Roman artifacts. I was impressed with what the girls remembered from our History lessons.
e. This is a bird's nest from the Bird Migration exhibit. A took the picture with her ipod.
f. This is a Roman sarcophagus. My girls decided that Ancient Rome had the best artifacts -- lots of marble!!
g. We learned a bit more about Ancient Greece.
h. A Roman bust made of marble.
i. This exhibit was about the differences of life for women and men, boys and girls in Athens and Sparta. My girls stopped reading and just told their father all about it. He & I were both REALLY impressed with how they explained the differences of a democratic society vs. a warrior society.
One of the best things about a museum membership is that you know you will be back and you don't feel as compelled to see "as much as possible". You recognize that your brain hits a saturation point and you move on.
In our case we moved "Down Neck" -that's local speak for Ferry Street which any New Jerseyan worth their salt knows is synonymous with some of the best restaurants this side of the Hudson. It's not uncommon for our family to make the 40 minute trip for dinner, and now we can make an afternoon of the museum before we head there for dinner :) We have a favorite place there. The hubs and I always share a pitcher of sangria (sometimes white, sometimes red; this time white.) The girls ALWAYS get the shish kebab. Jason always gets the Rodizo. The Rodizo is several kinds of sausage, roast beef, chicken, short ribs, etc. rotisseried over a wood fire and they just keep bringing the spits to your table. Just when you are almost done, along comes some more...until you say, "Stop, No More! I can't move!" The hubs LOVES this. See his smile? It ends with grilled pineapple. My favorite part, just sayin' ;-) I get something different every time we go. They have awesome seafood and paella. We ended our meal by sharing this amazing dessert.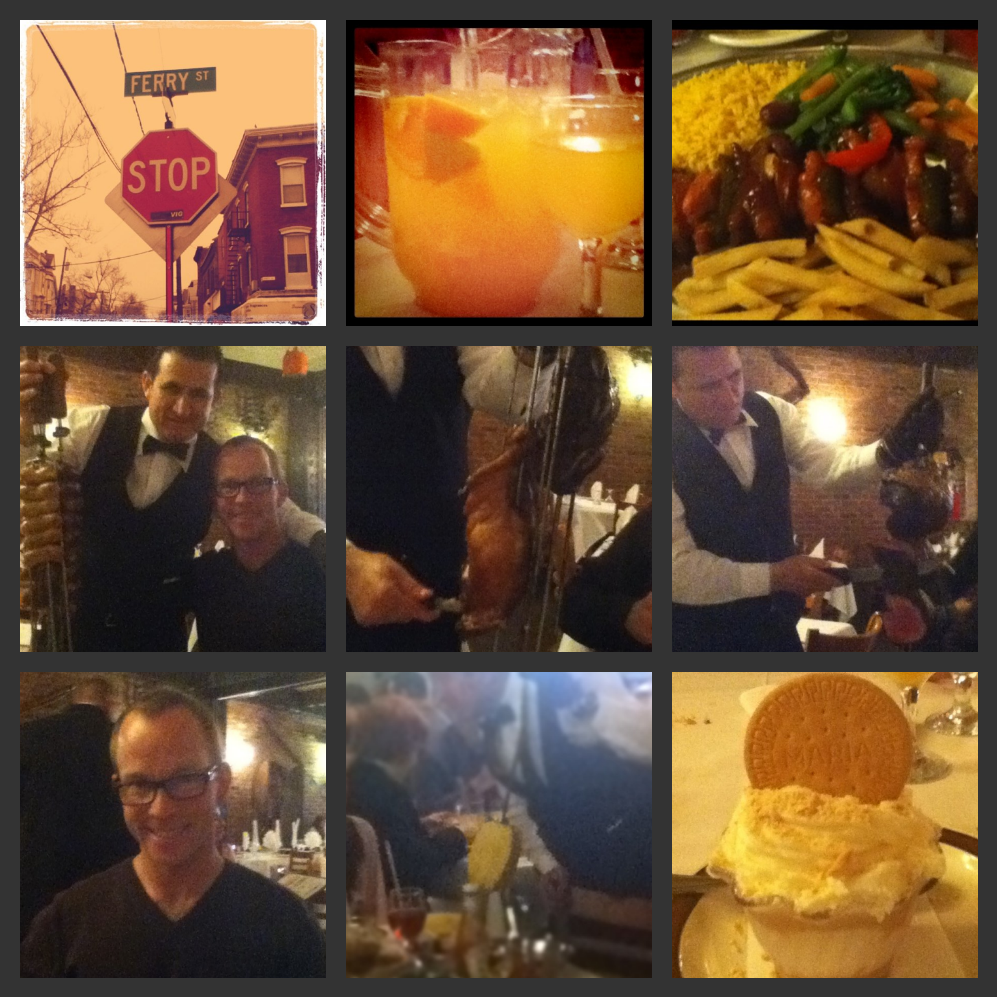 We are looking forward to MANY more afternoons spent at the Newark Museum and satisfying our gastric urges on Ferry Street :)