Today I am linking up with
Kelly's Korner: Show Us Your Life
to talk about how I told Jason that I was pregnant and then how we told our families.
We bought our house in Connecticut in January of 1998. The whole point in buying it, the whole decision was based on starting a family. When we looked at houses, we always talked about seeing our future children playing ball in the yard or gathered around the kitchen table. We spent 18 months renovating that farmhouse and then we decided it was time. My mom warned me that it doesn't happen right away, just because you want it to. It may take months.
Um, not for us.
We were
really
lucky.
It may sound crazy, but I swear that before I ever missed a period, I KNEW I was pregnant.
Of course, going out for dinner for Valentine's Day, I couldn't button my shirt over my boobs and I thought: "I will pass on the wine tonight."
I took a pregnancy test and it came back negative. I was very sad, but my friend Brenda Lee told me not to worry sometimes there is not enough of the human gonadotropin hormone to make the test come back positive. She told me to wait a week and take another test, if I didn't get my period. A week later, I took another test and it was positive!
This was taken in the kitchen of that farmhouse; we were in the process of doing the kitchen floors...another weekend, another renovation was out motto back then!
Jason was already awake, staring at the stick in the cup with me, so he knew as soon as I did! Then we called his family and my brother.
The best part was that my mom was in the hospital, she had just had surgery that didn't go as well as expected. I had kinda sorta known before she went in that I was, but that whole negative test and all...DOESN'T GOD WORK IN STRANGE WAYS??? My mom was very upset about her surgery, until we walked in and she knew right away, just looking at us! We just all started crying and hugging each other.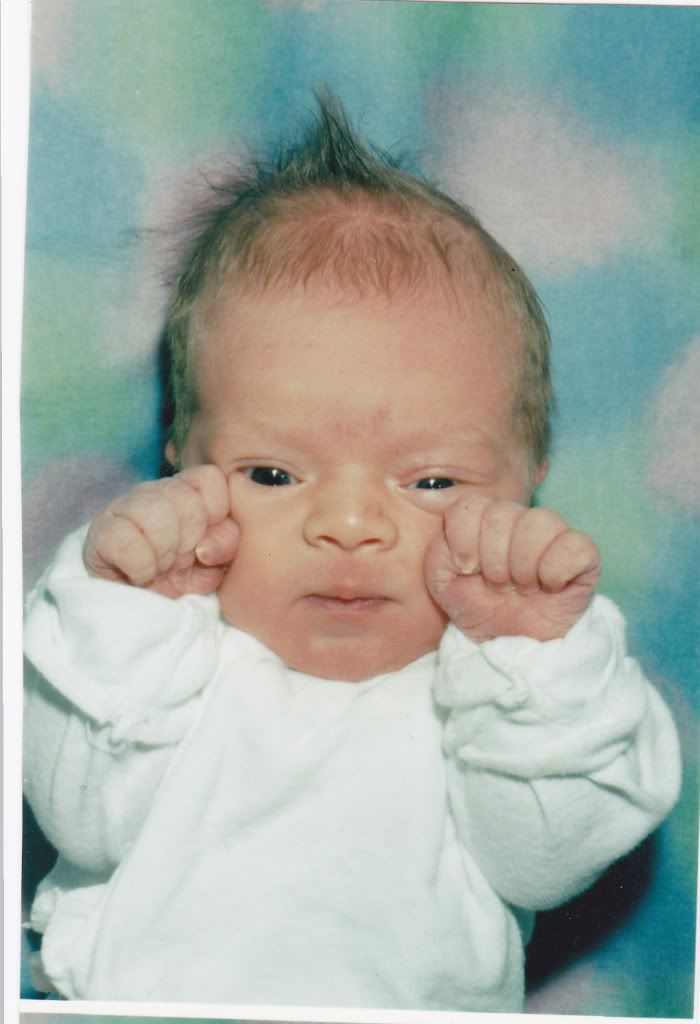 My biggest regrets is that my dad had gone home and when we called to tell him, he wanted to drive to the hospital, but we had plans that night and could not wait around. We really should have canceled those plans and stayed with my parents that night!
We had sold our Connecticut farmhouse and moved back to New Jersey in the spring of 2001. As soon as we closed on our new house, we started "trying". I remember being in Crate & Barrel with my mom picking out some things for the new house and just getting this "feeling". But I didn't know "for sure". My mom thought I had lost my mind when I said, "I think I am pregnant!" in the middle of Crate and Barrel!
The following weekend, we had a big housewarming party. And wouldn't it just be perfect...so I took a test the morning of the party (still had not missed my period) and sure enough, I was pregnant!! So, when our guests had all arrived, we made the BIG ANNOUNCEMENT! It was perfect!!!!
My girls have blessed my life in ways that I could never have imagined. Before being a mom, I was a babysitter, a nanny and a pre-school teacher, but NOTHING prepared me for how much I LOVE my girls. I would go to the ends of the Earth for them. I am so proud of the young women that they are becoming.
So, I am curious...
How did you tell your husband and family that you were expecting?