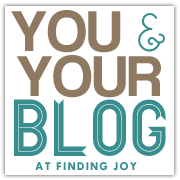 I have been wanting to participate in this since I heard about it!

I just love the idea so much!
The challenge is to take a photo of you with your blog.
Blogging has changed my life.
Seriously.
I am not being melodramatic.
Blogging has really changed my life.
It started as a writing exercise.
It turned into a way to share what was going on in our lives with family & friends.
I have made many on-line and even some real-life friends because of my blog.
I used to burn all of our photos on to discs and back them up on a photo site,
now I have a place where I can post them, view them, remember them...and the words that explain and express what they mean to me.
My blog is an act of love for my family. I preserve our memories. I capture our moments.
I like to think that in twenty years when my girls are moms, they will be able to look back at the blog or the books we have had printed of the blog and remember...but even more than that, maybe by me sharing my struggles, my fears, my questions and my experiences, my girls will glean a little insight into just how much being their mother meant to me!
Early on, I tried to find a focus.
I tried to narrow it down.
But, for me, I like to keep it real.
I like to chronicle the life of my family at this time...
and we are not about just ONE THING.
We are about many things.
Our life is messy.
It's not narrow and defined.
It's scattered here and there...
I resist the label "homeschool blogger"
because my life and my blog are not just about homeschooling.
Homeschooling does not define who we are.
Homeschooling is just one facet of our life.
Homeschooling may set us apart from some people, but I resist that idea that it defines who we are,
just as I don't think being a public schooler defines who a public school child is.
I could be a mom blogger or a family blogger.
A life blogger.
A twenty-first century blogger.
My blog is a compilation of our experiences, our ideas, our feelings,
what we did and who we did it with.
It's that little view inside.
Jason & I have this little thing we do when we are driving around. When we see a house with lights on, we make up little stories about the lives of the people that live inside.
This blog is a view inside our home.
It's the light on in my window.
It's a window into my heart and mind.
It's an extension of who I am.