Today I am linking up with my fellow Thinking Mothers, Mary and Susan.
Susan hosts an awesome Friday meme called
Our favorite resource this week is actually an idea that we got from Susan herself!
We have been watching the Waltons on DVD!
I was a HUGE fan of both Little House on the Prairie and the Waltons when I was a kid.
Years ago I bought the girls several seasons of Little House on the Prairie and they have become big fans as well. But I was not aware of The Waltons being on DVD until Susan brought it to my attention.
We have been SO enjoying the show. I love the family values and the morals in the show. I love how the family works together. I get such a kick out of how fresh the kids actually are and how funny and adorable the Grandpa is. The girls are learning values and moral lessons from watching these shows. They are also learning about life in rural Virginia in the Depression era. They are learning about Prohibition (the ladies and their "recipe" ;-) They learned about polio when the mother was stricken with it. They learned that President Franklin Delano Roosevelt had polio. They learned about the polio vaccine. They saw what life was like before cell phones, washing machines, TV... The Waltons have been a fabulous addition to our holiday season!
Mary just launched a Friday meme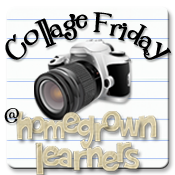 Last weekend, my parents had the girls and Jason and I went back to Princeton,
the town where we met and fell in love.
In the first photo, I am sitting on the steps of Jason's old apartment on Park Place.
The second photo is the Alchemist & Barrister (or as Princetonians call it, The A & B)
we got engaged at the A & B
my work bridal shower was held at the A & B
it was the first place we ate when we moved back to NJ from CT
my brother & sister-in-law asked us to be in their wedding at the A & B.
It's one of our special places.
We had a lot of fun wandering around our old haunts in Princeton.
We had a blast trying craft beer at breweries in Princeton & in New Brunswick.
Back at home:
I love how cozy our home is when it is all decorated for Christmas.
We have played MANY games of Blokus this week
and
Apples to Apples.
A made her very first ever batch of cookies all by herself:
mint chocolate chip cookies :)
On Friday night we went to my niece's birthday party at a Bounce Place.
So fun!