In my life this week… I was sick in the earlier part of the week (achey, fever, awful headache) not sure what it was. But I really didn't take any pictures, which I am very disappointed about -- I like having LOTS of pictures of our week :(
In our homeschool this week…
We learned about the human body, cells, organs, systems. We started exploring the skeletal system. We made a ball joint and learned about synovial fluid. In grammar we learned about appositive phrases and practiced writing appositive phrases. In history we studied the Islamic Invasion in Spain and Africa. Both girls whizzed through math with no problems this week, thank heavens. It seems that we have some weeks were the lessons just click and others where there is some frustration because things don't click as easily...fortunately, this was an easy week.
I'm cooking… a Muffeletta and chili for the SuperBowl. Go Giants!
I'm grateful for… the roof being DONE!
I'm praying for… several blog friends who have family members that are ill.
This weekend I am looking forward to...a Super Bowl party! Go Big Blue!
My favorite resource this week is the
Magic School Bus Journey Into the Human Body
kit that my uncle gave the girls for Christmas. This kit provides tons of facts, but also a lot of great practical applications to understand the facts. We made a "ball joint" from the pingpong ball that comes with the kit and a tube made from paper, then we learned about synovial fluid by adding a few drops of mineral oil.
What I love about this kit is there is TONS of hands-on activities and the facts are presented in a clear, concise and interesting way.
One of the girls' favorite things about the kit is the life-size diagram of the different body systems and how they get to add to each part as we learn about it!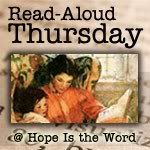 I am so excited that we tried read-alouds again and that we are enjoying them so much!
I have to say, shorter books or stories are key for us in read-alouds.
We read the story of Robin Hood, the Sword and the Stone, Finn MacCoul and Sir Gawain and the Green Knight, among others. This book is a perfect complement to anyone using Story of the World, Volume 2, The Middle Ages.
These stories are so colorful and filled with valor.
I wish that I had started reading my girls these books when they were tots.
If I had to do it over, this would be on our bookshelves in constant rotation when my children were toddlers, so that these stories could become a part of them, as they were a part of so many lives for centuries.
Mary Pope Osborne's Favorite Medieval Tales is a great read-aloud!