There are so many awesome Friday memes out there, that I can't pick "just one", so
I am going to pick and choose parts of each that I think are best to reflect our week.
My favorite resource this week is the Magic School Bus. We have been studying Biology and questions about human anatomy and physiology came up. I decided to create a unit study. We love experiments and
The Magic School Bus: Journey Into the Body
kit seemed perfect. I decided since we were doing the kit, why not read the book? It was very informative. We got kind of sucked into the book and decided to rent the DVD! I heard there was a CD-ROM, but when I looked into it, it is pretty old and I am unsure if it would work on our computers! Through Magic School bus, I have gotten some great ideas for projects to do with the girls...like making them lie down on butcher paper, trace their body and have them draw in their hearts, lungs, bones, arteries, blood vessels, brains, etc. We are working on that today! Since my girls are 9 and 12, we will also be looking into documentaries on the human body and other books, but the Magic School Bus was a great intro!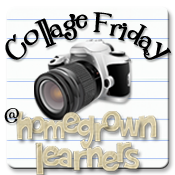 Clockwise L-R
1. After making unhealthy eating choices over the holidays, green smoothies help put my body back where I feel good.
2. My mom always has the family over for a big New Year's Day dinner...this marked SIX weekends in a row that my girls and my niece were together!
3. On Monday, I cleaned out my filing cabinet--I got rid of manuals for appliances we no longer own, toys we gave to Goodwill years ago, receipts for furniture we don't have anymore, etc.
4. Also on Monday, I printed out these pages that
Mary mentioned in her post
and we all set about reflecting on our 2011 and setting goals for 2012 :)
5. On Tuesday A got frustrated with something school related (writing? grammar?) and locked herself in her room; P made her soup for lunch to cheer her up :)
7. After reading about how my girls love to make jewelry,
Marcie at Bare Naked Tree
sent us a box of beads...we had a blast making jewelry and P was thrilled to find these Eiffel Tower charms!
8. My mom gave the girls gift cards to
Tikatok
for Christmas and they have been writing non-stop!
In our homeschool this week.... We were back at it after a month off :)
A had finished Math U See Epsilon just before the break. She started Zeta (Decimals and Percents) this week and finds it a little challenging, but definitely manageable IF she takes her time.
We started each day with Math, a Daily Gram and 5 GOOD sentences using our Latin roots. I have been reading a lot about streamlining goals. I have decided grammar, spelling and writing are going to a big focus this term.
The girls got gift cards from
Tikatok
from my mom for Christmas and I could hardly pry them away from the computers! They LOVE writing their stories!
Helpful homeschool tips or advice to share... I have struggled so much with bedtime. My girls LOVE to read in bed. Do I make them turn off their lights at 10? 11? Let them stay up as late as they want reading?
As much as I wanted to encourage their love of reading, we were starting too late...and they wanted lunch 5 minutes after we started doing something. So, we have settled on 9pm for in bed, lights out at 11pm. I woke them up at 8am each morning this week and we were doing Math by 9...it worked out great!

Homeschool Questions I Have... Do you set bedtimes for your kids? How old are your kids? At what age do you start to allow them to make this decision on their own?
In my life this week.... Last Friday night Jason and I watched a documentary on Singer-Songwriters on PBS. I've been a huge James Taylor fan for over twenty years and I had heard of Carole King and Joni Mitchell, but I've been really getting into their music this week. I find that I know so many of Carole King's songs. I just love her. Joni Mitchell, James Taylor, Jackson Browne just have a way of setting a tone and I love having the music on as I go about my day.
Did you know that Steve Martin (the actor) actually got his start at the Troubadour as a Singer/Songwriter?
If you have any Singer/Songwriter music that I should check out, please let me know. I am really enjoying this and would love to find more singer/songwriters.
I am inspired by... Carole King and Joni Mitchell
I'm reading.... Girls Like Us: Carole King, Joni Mitchell and Carly Simon and the Journey of a Generation by Sheila Weller.
I'm cooking.... chili and Asian Noodle Bowls :)
I'm grateful for.... everyone who followed me over here to Red Oak Lane.
I'm praying for.... the world economy to improve...for the world to get out of this Recession.
This weekend I am looking forward to.... taking advantage of Bank of America's Museums on Us program!