It has been a REALLY emotional week. A ran into some homeschool friends at the library on Tuesday and had such a great time, that she is considering going back to school. A was the kind of kid who was WAY more interested in the social goings-on of school than the academic goings-on and she REALLY misses all the "drama" as she calls it. We don't see this as a reason to go back to school, but we also don't want to hear that we are "ruining her life" and have her grow up resenting us.
In our homeschool this week…
Piper mastered division and Allie mastered the metric system.
We completed an artist study on Rembrandt.
We learned about the life and times of Charlemagne and each girl wrote an interesting paper about Charlemagne.
We reviewed our Latin roots and I was very pleased at how the roots have stuck and how the girls are understanding how the English language works.
We continued to write sentences with appositive phrases and learned about subject-verb agreement.
Helpful homeschooling tips or advice to share…
Sometimes you NEED A BREAK.
I am emotionally frazzled right now between A wanting to go back to school and just the day in and day out of everything I have to get done. I don't have the energy to be creative with teaching and learning and facilitating. I am so thankful that The Hubinator has off next week and we are looking forward to some vacation time.
Everyone who links up for Thankful Thursday
I am not sure if it is my personality, or living in the hectic pace of the Metropolitan area, but I talk fast, I eat fast, I think fast..every time I get something accomplished there is ten more things that I need to do...and really, right now, I need a break!
Places we're going and people we're seeing…
the library, church, youth group, Mom's Night Out
My favorite thing this week was…
Mom's Night Out at the Melting Pot
My homeschool mom friends brought up so many things that I never thought of, like making our kids feel like they are integral to the survival of our family (prior to this discussion I thought if I had my girls help me stain the deck railing this spring someone may call DYFUS--I am NOT kidding!)
What's working/not working for us…
this week, it felt like nothing was working. ok, that is not true. School was working, teaching and learning were working, our minds were challenged...but emotionally, being told I was "ruining my daughter's life" was NOT working and has left me questioning a lot of things.
Questions/thoughts I have…
at what point is what we think is best more important than what our 12 year old wants...will she regret/resent not having a "normal" childhood.
Home Front by Kristin Hannah, a powerful novel about a mom (of a 12 year old) who is in the National Guard and is deployed to Iraq.
quinoa! We love it! I was on a grain kick a few years ago, but then had a hard time finding quinoa. Fortunately, Costco had a BIG bag and I bought it the other day...we really love it!
My homeschool mom friends who have shared their testimony with me, who walk this walk with me, who see my tweets about A wanting to return to school and within minutes my inbox has messages.
Brought tears to my eyes and I am not kidding!
my daughter, my husband and myself that we make the right and best decision
A photo, video, link, or quote to share…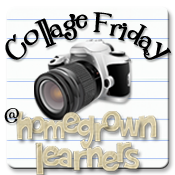 1. Jason was home with the girls Monday. When I got home from work, A had made her now-famous mint-chocolate chip cookies from scratch all by herself!
2. I enjoyed a wonderful night out this week with some homeschool mom friends at The Melting Pot!
3. We learned about Rembrandt this week and how he was known for drawing faces. We practiced drawing our own faces with different emotions while looking in the mirror.
4. On Tuesday, the girls came to work with me. A ran into some of her public school friends and hung out with them...this lead to wanting to go back to school and a VERY emotional week.
5. My girls have been at each other's throats...(see above for at least part of the reason)...I had them write each other letters sharing all of the things they loved and admired about each other.
6. We studied microbes and bacteria and couple of weeks ago, one of our experiments was to rub bread on the sink and put it in a bag; another piece of bread was put in a different bag dry. We record our observations weekly. This is the "wet" bread after two weeks. The dry bread was mold-free.
7. We learned about Charlemagne in Story of the World, Volume 2 and then did some additional reading and a report on Charlemagne's life.
8. We learned about nutrition and making healthy food choices. We kept food diaries.
9. I made quinoa again this week. Several years ago I was all about trying different grains and we all loved quinoa, but it is hard to find around here. Finally, I found it and bought a BIG bag in Costco. We love quinoa and it is sooo versatile!

I am also linking with